Lalique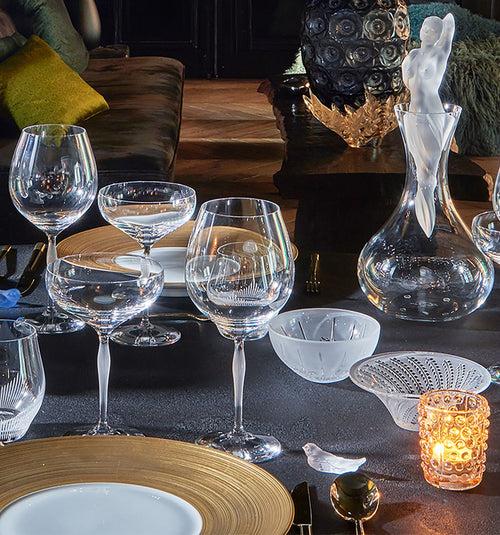 René Lalique was born in 1860in Aÿ-en-Champagne in the Marne region of France. Some years later, the Lalique family moved to Paris. Founded over a century ago, in 1888, Lalique has endured as the ultimate symbol of French luxury. Today, the vision of the brandis to prolong the creative genius of founder René Lalique by issuing perfumebottles in crystal, reviving exciting and emotional jewellery designs, pushingthe limits of the factory by creating decorative objects with its signature satin contrasts, carrying out major architectural projects, crafting a unique Lalique world dedicated to the home, working with renowned artists to produce limited editions in crystal and to recreate its cultural heritage.
The name Lalique evokes the brilliance of jewellery, the wonder of transparency, and the brilliance of crystal. Before it became a brand name, it was the name of a man, an artist of genius, René-Jules Lalique and of his heirs who shared his creative flame.
Lalique can look back with pride on a wonderful tradition:  More than 130 years of savoir-faire and creative excellence in the French "Art of Living", producing timeless creations: artobjects, light fixtures, furniture, jewellery, fragrances and more – all "made in France".